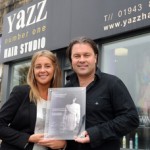 Our own Paul Shakeshaft has recently been interviewed for a magazine article and her are some of the interview questions and answers revealing Paul's vision for the Yazz brand and guidance for new business start-ups.
How did you get the idea for your concept?
I was already a hairdresser, my goal was to build a strong and identifiable brand in the area which would deliver exceptional service to all of our customers, bringing modern and bang up to date trends and colouring techniques to a local town, without having to travel into the City.
Describe your style and concept.
Yazz is a thoroughly modern Award Winning Hair Salon; we actively listen our customers and address their needs on a one to one basis. Making them the very best version of themselves.
What was your mission at the outset ?
To deliver exceptional service to all of our customers ,ensuring we have the best  and most educated teams to do this, this remains today.
To what do you attribute your success?
Our customers first and foremost both loyal and new, the amazing feedback we get and recommendations to visit our Salons are outstanding.
Of course the team who always give 100% in delivering this, they are passionate, committed and dedicated to ensuring all of our customers are beyond happy.
We have won numerous Industry recognized awards, which reflects this.
Do you have any future goals for the business?
Absolutely, recently we have opened a fully accredited Yazz Hairdressing Training Academy and of course we are always on the lookout for any new Salons and team members to work with us.
Plus, bringing digital to the forefront of all that we do, either in the Salon environment or indeed on our Website, Facebook Twitter pages etc .
Does your business get involved in the local community or support local charities?
Absolutely, over the last 21 years we have undertaken many fund-raising events either for the local community or taken part in raising money for National Charities, it's something we simply love to do.
We also feel it's very important to visit local schools in the area, to demonstrate to the youth of today what a great Career can be had in Hairdressing, it's so very important we inspire our future generations.
If you had one piece of advice to give to someone just starting out in business, what would it be?
Remain consistent and focused in achieving your dream; always have the customer at the forefront in everything you do, don't let any obstacles get in your way!
Believe in yourself!