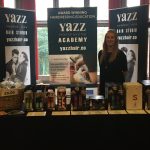 Christmas has come early this year at Bronte House School Christmas Fair.
On Saturday 3 December Carolyn Jacobs, Sales and Marketing and New Senior Stylist Annabelle Harpin, based at Yeadon Salon attended the school to sell and give advice on Tigi Christmas Gift Sets and Ghd electrical products.
Parents and children attended this 3 hour traditional Christmas event where lots of local businesses besides ourselves came along to sell their gifts.
The School choir and orchestra were playing music throughout the day in the schools new dining hall which was crowded with parents, teachers and children celebrating Christmas whilst enjoying a choice of food ranging from bacon sandwiches to festive mince pies.
This is an event we love to attend every year!