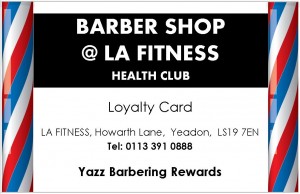 Yes that is correct, not one, but two new Loyalty Cards have been released to reward regular Yazz customers with discounts on products and services!
The first loyalty card is for the Yazz Beauty department in Rawdon. This loyalty card gives you money off beauty products, facials and in the 9th visit, money off any beauty procedure. So if you regularly keep yourself looking your best, ask for a Loyalty Card at the Rawdon reception.
And for the men that like to keep well groomed, the Gents Barber Shop at Yazz Yeadon, in the LA Fitness centre, have released a Gents Barbering Loyalty Card too. This card also give you the chance to get great discounts on products and free hair cuts too! This Loyalty Card can by found at the Yazz Yeadon reception.