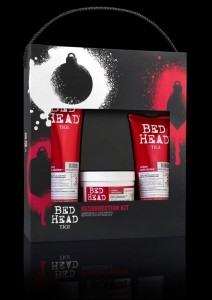 Eagle-eyed Yazz Hair customers might have noticed we've added some brand new Christmas gift sets to our shelves – perfect for helping you unveil gorgeous new locks during and ahead of the festive season. And the gift sets in question are amongst a cool new festive collection from Bed Head by TIGI.
If you're passing our Leeds hair salon, you might want to pop in for a spot of retail therapy. With everything from shampoo and conditioning sets to styling kits available to purchase, you'll have no trouble ensuring your hair do – or someone else's (they make great Christmas presents!) is party-ready.
The 'Wreck the Halls' hair kits have been created to help you 'make a statement and cause a stir'. Stand out from the crowd with these cool product combinations, concocted by the TIGI creative team to answer your every hair care need. Whether you're looking for a fast fix style mix or a post-party hair pick-me-up, you'll find it here.
With a chance to save 30% or more, Bed Head's gift sets offer fantastic value for money on some of your favourite products. Take, for instance, the brand's Curl Couture kit; it combines Camera Ready and Curls Rock for cool curls, for day and night – and at just £21.95!
Those with blonde hair can snap up TIGI's Blonde Therapy kit, which contains Dumb Blonde Shampoo and Conditioner for under £20 (£19.95). A great present for popping under the tree or the perfect treat to yourself, this Bed Head duo will fast become your go-to festive hair care kit.
Meanwhile, the brand's Backstage Beauty kit comprises Oatmeal and Honey Shampoo and Conditioner for smooth, moisturised locks. At just £19.95, this is another great value gift set we think you'll love.
Or why not check out Big Shot? It helps you achieve beautifully voluminous hair, thanks to the addition of the products Superstar Queen for a Day and Blow Out. At £20.95, this is an on-trend gift set that's bound to go down well this year.
In black and neon-coloured packaging, these fashionable kits are ideal for when you just don't know what to buy the hair-mad woman or man in your life. How about, for instance, the Pick Me Up kit, which is ideal for dry or damaged hair? It contains a Recovery Shampoo and Conditioner and costs just £16.95. For after-party hair, try 'Party Girl' – a gift set which combines After Party, Headrush and Masterpiece. With three products, this kit – at just £30.95 – is a gorgeous mid-priced gift idea for someone special.
Perhaps the TIGI Bed Head hair kits don't quite contain the combination of products you're looking for? No worries; you even have the chance to create a bespoke gift set by adding the items you like to a TIGI gift box. Simply talk to us in one of our three Leeds hair salons; pop in to see us in Rawdon, Guiseley or Yeadon and we'd be happy to tell you all about our gift selection.