Exciting news! TIGI's Christmas gift sets have now landed in our Yazz Hair Leeds salons – and we're letting you know so you can bag a great deal before they all get snapped up.
TIGI invites you to 'play hard, party harder' this festive season with its gorgeous new gifts. Helping you make the most of Christmas by ensuring your hair's always on point, the sets include a host of your favourite products from one of the biggest brands in hair care.
From shampoo and conditioning gift sets to packs containing styling products for adding volume and texture, TIGI has thought of everything to ensure you have everything you need ahead of your long-awaited Christmas party.
Available to purchase here in our hair Leeds salons are a range of limited edition Bed Head by TIGI gift sets with up to 30% off!
There's the Colour Goddess gift set for those with freshly-dyed hair. Available for just over £30, this set is a big hit in all three of our salons.
If you've recently had your hair stripped, bleached or dyed, you'll want to check out Bed Head by TIGI's Resurrection Kit, which focuses on boosting the moisture levels in your hair ahead of the cold snap.
Or don't forget to take a look at the 'Messed Up' kit, to give your hair that cool, 'just got out of bed' look ahead of your festive celebrations. Hair doesn't always have to be photo-perfect, you know. Instead, go for a cool, Kristen Stewart-esque vibe with messed up locks that'll take you from office to bar.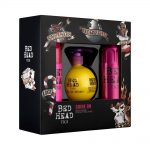 Other gift sets available to buy are the Shine On set, for a super soft and sleek do, and the Volume Blast, to give your hair a little oomph! We also have the Man On gift set, too, for the man in your life – or gents, why not treat yourself the next time you're in our salon?
Don't forget to keep up-to-date with all the news from Yazz Hair over on our Facebook page – and take the opportunity to stock up on festive treats when you pop in to book your next appointment.
[envira-gallery id="3957"]