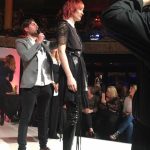 It's been an exciting time for our stylist, Ashley Wallis, who's recently returned from the prestigious TIGI Inspirational Youth UK event. And of course, our talented hairdresser didn't let us down, appearing live on stage and confidently displaying the hair style he'd created following a gruelling 5-day bootcamp.
The event, at London's Cafe de Paris Club, showcased the creative experiences gained during a TIGI bootcamp, with doors opening at 7pm and the show closing at 12am.
Marking the 14th anniversary of TIGI Inspirational Youth, this year was just as successful as previous shows. Created by Anthony Moscolo to give 'the next generation of hairdressing stars' a great opportunity to hone their skills, the event recognises young talent and the course itself is viewed as one of the best in the industry.
Taking part in a five-day bootcamp, Ashley then appeared at the live show and got the chance to experience a fun photo shoot with his hair model, and TIGI photographer, Alex Barron-Hough.
Speaking after the event and photoshoot, our Ashley said: "Inspirational Youth has opened my eyes to hair, fashion and beauty trends, and a different world of hairdressing. It's helped me look at how we work with hair."
Want to eventually follow in Ashley's footsteps? Talk to us today about how you can become a trainee at our Yazz Hair training academy – just ring the team on 0113 250 4511.
You absolutely smashed it Ashley Wallis……..Amazing is an under statement. 💇#proud #TIY2016 #Tigi #London #YazzHair #Rawdon #Leeds

Posted by Yazz Hair on Tuesday, 15 November 2016