A brand new year is the perfect time to try a brand new look! Why ever not, eh? And now that we've got January out of the way and your bank balance is looking a little better off (hopefully!), consider getting booked in to Yazz Number One Hair Salon Leeds to give something new a go.
In the hope of offering you a little inspiration on the hair front, we're bringing you five styles you could try in 2017. Hey, why not try all five – one after the next?! Read on…
A Sleek Up Do
Everyone should try a sleek up do at least once – even if it's for their wedding day. Beautifully elegant, an up do is simple yet chic. It's also easy on the maintenance – once it's done it's done. They'll be no fiddling about with your hair in the toilets; it should stay put all night or day. Perfect!
Beautifully Boho
Heading to a spring or summer wedding? Or perhaps you've been invited to Aintree or Ascot? Go for something a little different hair-wise and try a beautifully boho look like this one (below).
It's easy for our Yazz hair stylists to create and it'll look great, too. The good thing about a do like this is it'll look almost like you haven't tried. Loose waves, complemented with pretty flowers are ideal for any kind of occasion – barbecues, festivals – you name it!
Why not head to our Leeds hair salons and give this a go in advance of your long-awaited event?
Loose Waves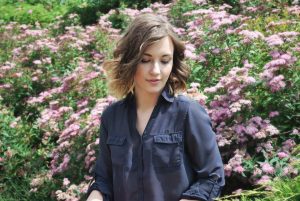 Don't think your hair takes a curl? Think again! Unless your hair is super short, we'll find a way to make a curl work for you. Whether you'd like loose waves – particularly on trend right now! – or something bigger and bouncier, we'll see you right. Get in touch with our team today and we'll see what we can do.
A Playful Plait
So simple is this hairstyle that you could create it yourself in mere minutes – and with minimal tools too! All you'll really need is a hair bobble and a little hairspray to keep it in place. The looser the better for a cool, boho look in time for the summer's music festivals. Why not try a side plait to make the look that little bit edgier?
Bright and Bold
Do you dare to try a vibrant colour in 2017? Go for an ombre look or an all over colour and stand out from the crowd this spring and summer.
Of course, pastel hair is still very much in and we love this muted red/pink shade (seen below) – what do you think? If you're not sure if a new colour's for you, try something temporary this year and see what you think.
Could 2017 be the year you try a new look? Go on, give the team here at Yazz Number One Hair Salon a call and we'll get you booked in.