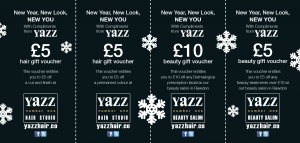 Yes! The ever popular Yazz Christmas Vouchers are back. Grab yours at any of the Yazz Number One Hair Salons in Rawdon, Yeadon, or Guiseley.
These ever popular vouchers allow you to have money off cuts, colours, and beauty treatments in the new year! It is a great way to treat yourself in the new year, or to slip in to a friends Xmas card as an extra treat for them.
However you will need to hurry. We only print a limited number of Christmas Vouchers and it is first come first severed!