Ready for a new look? The onset of a New Year is the perfect time to experiment – and with 2018 just around the corner, now's the time to be thinking about what you fancy.
To help you, we're rounding up some of the hottest hair trends set to take the salon world by storm as January rolls around. Read on…
It's Time to Covet Curls!
If you've got curly hair, the chances are you'll probably yearn for a straighter, sleeker look. Most of us want what we don't have, after all. But it really is time to keep those curls, you know! And if you have poker-straight hair, maybe you've always longed for a curlier do.
According to the ELLE website, curls are going to be big news in 2018, so it's time to start showing them off. The advice from ELLE is to 'up the ante' and embrace those curls, making them bigger and bolder than ever before. Yes, that's right; 2017's trend for curls is going nowhere in 2018!
Say Yes to Blonde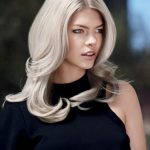 But not just any shade of blonde – dirty blonde is the word on everyone's lips! A hot A-list trend, the shade is going to be even bigger in the New Year, so why not ask one of your Yazz Hair stylists how you might achieve a lighter do in January and beyond?
Steps Ahead!
It's a quirky trend, but for 2018 the head scarf will be all the rage. It may be a little 'granny chic' but we say it's seriously cool – and if you're someone who loves vintage style, you'll be all over this trend in the New Year. Plus, it's great when you're having a bad hair day.
Plaits Fantastic!
Who knew the hair do you used to rock during your school days would make a comeback?! But it certainly has. Get ready to say hello to schoolgirl plaits, as they'll be oh-so-chic in 2018.
Don't be tempted to neglect your hair, though, just because you're grabbing a bobble and sticking it up every day. Your 'Barnet' needs a good conditioning treatment every now and then – and it can also benefit from a good cut to keep it in tip top shape. Chat to the Yazz Hair team about how you can get booked in for a maintenance cut or colour in the New Year.
Silver Lining
Embrace your inner pensioner and try silver hair – it's still a huge hair trend, as we move into 2018. But how do you maintain such a bold hair do? There are plenty of tips available online, with online tutorials to follow, too. Check out the advice for silver hair over on StyleCaster.com and make a vow to take better care of your locks going forwards.
Want a new look in the New Year? Now's your chance to get booked in! Remember to be realistic about what our stylists can achieve; we want to ensure your hair's in the best condition, so taking you from jet black to blonde in one session is unlikely to happen without damaging your do. Chat to us about how we can help you get the most from your next appointment, though – we're always here to answer any of your questions.