Yazz up and coming JEMMA LEACH
creative stylist at Yazz One hair studios in Leeds, might be just 20 years old but she's already kickstarted a great career in hairdressing by being selected as a member of TIGI's Inspirational Youth. The team of 11 young stylists gets the opportunity to spend six months working with the TIGI Creative Team, a cluster of top hairdressers, photographers, fashion stylists, PR experts,show directors and film makers from TIGI Bed Head. The culmination of the training is the TIGI-sponsored Inspirational Youth Show, for which the team puts together its own collection.
The collection…
…Began with a culmination of moodboards created by all 11 stylists in the team. We each came up with visual images that best described the sort of look we wanted to create, not just of the hair but the make-up, clothes and even the look of the model too. The TIGI Creative Team would then give us more direction, suggesting other ideas we might not have thought of.
Our focus…
…Was really to create an eclectic group of styles that represented our own personalities and ideas.We didn't have a brief. We then had to come up with two looks: an avant-garde style and a more classic, commercial look, one of which we would then choose to create for the Inspirational Youth show. Luckily, the whole team was very different
and having our own interests and inspirations made putting together an eclectic collection easy, though we did have to sit down and discuss our ideas together and make some changes to ensure it worked as a whole.
My inspiration…
…Came from the textured styles in TIGI'S 2006 Ricochet Collection, as well as some of the TIGI shows I've been to and the latest trends, particularly the '60s and '70s revival. I love some of the new generation of models such as Lily Cole too. I think we can relate to her more than some of the older models. Her baby doll look was definitely an inspiration when it came to choosing my model and was the reason i went for a redhead.
The techniques…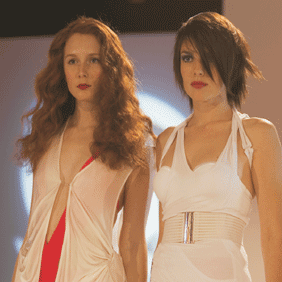 …Were a mixture of old-fashioned, classic styling, blow-drying, heated rollers, pin curling and clipping but with a modern twist. We used a lot of the TIGI Hardcore Curling Sticks, which are great for creating bends. For my avant-garde style, i created an old-fashioned vertical row on the front of the head but, again, with a modern twist.
Our kit bags…
…Had been packed by TIGI with Anthony Mascolo scissors, a Hardcore styling kit and various other products that became must-haves throughout the shoot, such as Superstar Hairspray, Headrush, Hard To Get and Masterpiece Hairspray, which was brilliant for creating shine and hold.
We learned…
…How to put a complete look together, from the clothes, hair and make-up right down to how you get that final polished look on camera. I gained so much from learning how to present myself to an audience, with the help of show producer Mark Esa. My confidence in the salon and in myself has definitely improved. It has been the most incredible experience of my hairdressing career and it's made me want to get more involved in stage and photo work.