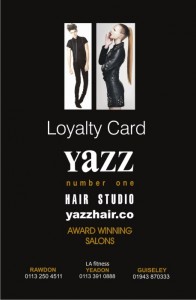 We know getting your hair cut can prove costly over the year. So guess what? We're ensuring at least one of your hair cuts in 2014 or beyond is that little bit cheaper, thanks to our customer loyalty scheme.
Simply pick up one of our loyalty cards from our staff at any one of our three salons (in either Rawdon, Guiseley or Yeadon) and you can enjoy £10 off your ninth haircut. And while your ninth hair 'do may seem a long way off now, it quickly comes round.
Perhaps your hair colour takes some maintenance, or maybe that cute pixie crop needs tidying up every three to four weeks? Either way, you'll definitely want to pop one of these handy cards into your wallet.
Don't kick yourself for not grabbing one of our cards; pick one up on your next visit and you'll thank us later! Speak to us today about other perks that come with being a Yazz customer, aside from getting a catwalk-ready do from some of the best stylists around, that is!