If you've been keeping an eye on the Yazz blog in the last six months, you'll know all about our Jess's first trip to the Big Smoke. Jess, who works at our Yazz LA Fitness Club salon in Yeadon, Leeds, headed down to London in October last year, to get a taste of the biggest event in the style calendar – London Fashion Week – before it had even begun!
But last week, Jess found herself in the capital once again. Attending London Fashion Week for the second season, Jess worked behind the scenes styling models' hair on the Henry Holland catwalk show – and here's how she got on:
"Henry's a designer I have loved for a while so you can imagine how nervous I was. I mean, I was on my way to work backstage and meet a fashion legend! "
So, how did she get on then?
"Every season I've done Fashion Week I've worked with inspirational stylists from around the UK and, of course, the TIGI creative team," explains Jess.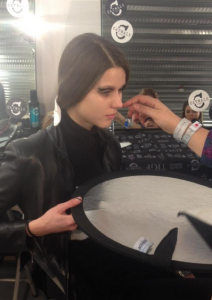 Gaining valuable experience styling the models' hair, Jess enjoyed all the buzz of working backstage. Henry was lovely, says Jess, but I was too overwhelmed to speak back when he talked to me. I wished I could go back and ask him where his inspiration comes from."
She went on to explain how her time in London panned out: "When we got there, TIGI's Maria Kovacs showed us the look [she wanted us to create for the models] which was quite simple. It was beautiful and natural, with scarves tied around the models' necks."
Explaining how to create the look, Maria suggested using Catwalk's Root Boost Bodyfying Spray – a great product you can buy from our salons – and using a round brush to twist the hair. This helped create movement while keeping hair flat at the roots and ridding the style of any fly aways.
"Henry didn't want the hair to look like it had product in, so less was more in this case." says Jess. "We then set the hair back from the face with clips, for Maria to finish just before the girls walked the catwalk. It's all a race against time; every model has to look the same and be perfect in time – that's why teamwork is key."
Jess says this was by far the best show she's worked on, with everyone from Alexa Chung, Pixie Lott and Daisy Lowe perched on the front row to catch a glimpse of the looks she'd created.
"For me though, one of the most amazing things about Fashion Week is always the people I meet." says Jess. "We support each other as a team and we make it so much fun for each other. I have met friends for life and I look forward to seeing them again and learning more from other amazing stylists. I would like to thank Yazz for giving me an opportunity to be a part of an amazing event that is huge in the fashion world."
We wonder where our Jess is going to end up next. This year: London Fashion Week, next year: the world!