It might not even be Easter quite yet, but here at Yazz No 1 Hair Salon, Leeds, we've got a beach bronzed summer on our minds already! And it's all thanks to some brand new products from TIGI, available to buy here in our salons.
Bed Head by TIGI is 'going back to the beach' with its range of specially-formulated hair products. From 'Beach Freak' detangling spray to after sun shampoo and conditioners that are just perfect for reviving tired, sun-soaked locks, Bed Head will restore hair to its former glory.
Some of the Yazz stylists packed the products in their bags ahead of their recent team Barbados trip, as they wouldn't be without this fab range during high temperatures.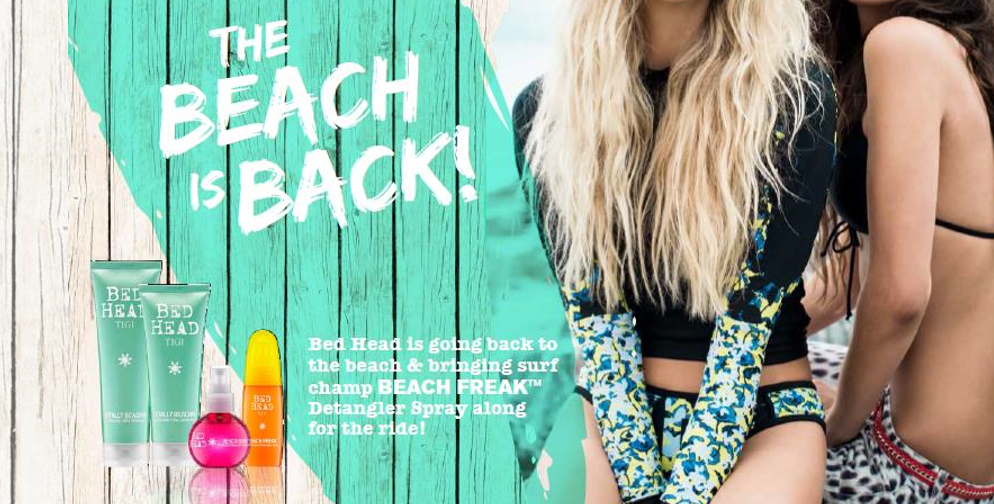 he brand's summer collection includes the 'Totally Beachin' Cleansing Jelly Shampoo and the 'Totally Beachin' After-sun Conditioner, both of them essentials for your suitcase this year.
The shampoo helps get rid of sweat, sea and sand to reveal sun-kissed strands in all their soft and shiny glory, while the conditioner will treat sun-damaged hair in no time. Leaving your hairdo mermaid-soft and ready to hit the nightclubs, this conditioner is available in a 200ml bottle which means it's bound to last you all summer too.
Don't forget your Beach Bound Colour Protection Primer! Protecting hair against heat and humidity, this product – seen below in a pink bottle – will fit perfectly in your wash bag and is ideal to give coloured tresses a boost.
Last but not least, Bed Head's Beach Freak Hydrating Detangler Spray will moisturiser your hair, while ridding it of knots as well. Once you've used this, your hair will be ready to style for hot summer nights at the bar or pool – perfect!
Fancy getting your hands on some of these gorgeous summer essentials? They're available to buy in our hair Leeds salons – in Rawdon, Guiseley and Yeadon, so make sure you look out for them on your next visit to the salon.