The Only Way is up for Yazz Number One Hair Studio and its Trainees!
– says Owner Paul
A FORMER Scottish footballer recently returned to the Leeds-based hairdressing salon he opened some 19 years ago to recreate a now-sentimental photo for owner, Paul Shakeshaft. John Hendrie first cut the ribbon on Yazz's first salon – located in Yeadon, Leeds – joined by hairdresser and owner Paul and his then three-year-old daughter, Yasmin. The inspiration behind the salon's name, Yasmin – then just a toddler – happily posed for a picture with her Dad and the footballing star – but little did she know back then that she'd eventually join the hairdressing profession too.
Now, almost two decades later, John agreed to pose for a light-hearted recreation of the same photo that marked the beginning of an exciting career for Paul – and now, for his daughter Yasmin.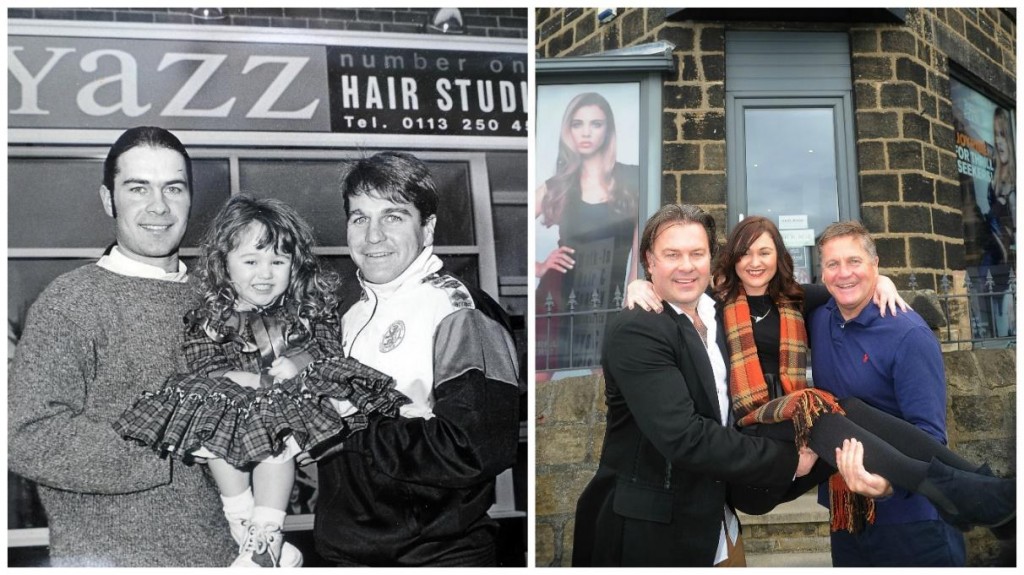 Twenty-two-year-old Yasmin says if it wasn't for the success of her Dad's business she wouldn't have joined the profession in the first instance.
While Paul encouraged his daughter to join the hair industry when she left school, a then 16-year-old Yasmin had other ideas. Insistent she wanted to take on an office job, Yasmin later realised hairdressing might be the right career path after all.
Now with three salons – including one in Guiseley and Rawdon – Yazz Number One Hair Studio also incorporates a training academy for budding hair dressers who'd like to gain their very first insight into the exciting industry.
Paul is thrilled his daughter Yasmin is now in high demand with clients visiting Yazz for a new salon, saying that thanks to the company's training academy, he's always on the lookout for budding hairdressing talent.
"Hairdressing is an exciting career for young people," says Paul, "and we do our very best here at Yazz to give anyone who wants to join the industry a chance to learn the tricks of the trade. I'm so pleased my daughter has also realised her passion for hairdressing here at Yazz too."
Yasmin adds: "I was in an office job [before working at Yazz Hair] but I found the role quite boring and uninspiring. I saw how quickly the business has expanded and how well the Yazz training academy was doing and I just fancied a change."
Yasmin, who says hairdressing has proved more challenging than her previous role, adds: "It's just more exciting and I've been able to learn so much and really show my creative side. It was funny seeing John Hendrie back at the salon. I don't remember the original photo but I couldn't believe it when they said they wanted to pick me up again [to recreate the photo]. I was worried they'd drop me!"