Summer's on the way and by now you've probably already begun thinking about where to spend a week away. But whether you're planning on staying put here in the UK or jetting off somewhere exotic, it's a good idea to take note of our top tips for perfect summer-ready hair.
The fact is, just like the sun can cause damage to your skin, it can also wreak havoc on your usually glossy hair, too. But here at Yazz Number 1 Hair Salon Leeds, we're helping you enjoy gorgeously soft hair all summer long.
Our staff at our hair Leeds salons are waiting to get you booked in, but in the meantime, take a look at our top tips…
Condition, Condition, Condition!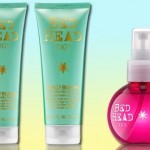 Everything from the sun's rays to the pool's chlorine can turn your locks into a dry, straggly mess.
So what do you do? As soon as you get back to your beach bungalow or hotel, wash the salt water and chlorine from your hair and leave a good conditioning treatment on the roots and ends. If you like, you can even go to bed in it; just wrap your hair in a towel before you do; no one wants to wake up to damp pillows covered in conditioner!
Use a good conditioning treatment a time or two while you're away and leave it on for a good 20 minutes when you come home from your holiday, too. The result? Super soft locks even our team here at our hair Leeds salons will be jealous of.